Pilipinto's Happiness: The Jungle Childhood of Valerie Elliot
Today is Favorite Blog and Ministry Friday! I am happy, happy, happy to have something to tell you about this person. It is with great pleasure that I feature this new author. She is certainly no stranger to us, and is none other than Jim and Elisabeth Elliot's daughter:
Valerie Elliot Shepard.
The name of Val's book, as I'm sure you've figured out is,
'Philipinto's Happiness.'
Many of you who follow this blog love
Valerie
and her family just as much as I do. The majority of you are familiar with her story. However, I am starting to get more emails than before from people all over the world asking who she and her mother are.
I want to keep dear
Elisabeth Elliot
words, books and her ministry alive so that all Christian women young and old will be blessed by her message as so many of us have been.
Thrilled is what I am that Val has decided to write this book. It is good to know that she's keeping her parents memory and legacy going. I think we all need to help with that any way possible. Hence me doing this post.
Anyway, just in case those of you from a younger generation want to know who
Valerie
is here's a bit of the description on the book that I took from Amazon. It's below the videos.
The top video is about Val's dad and the other guys who were martyr. Beneath the top video is a picture of Elisabeth & Jim Elliot. I sincerely hope you enjoy them. I always do.
Valerie was 10 months old when a primitive tribe in Ecuadorian Indians made a martyr of her 29-year-old father, Jim Elliot, and four other missionary men.
Though newly widowed and a new mother, Valerie's mother, our most treasured and beloved Elisabeth Elliot decided to live among the same savage Indians that had killed her husband.
This book, Philipintos Happiness, relates an amazing story of redemption through the eyes of Valerie. In the book she shares memories of growing up in the Amazon jungle with the Quichua and Auca tribes.
Don't forget to like our
Facebook Page
|
Subscribe to the blog
|
Follow Me On Twitter
You can see more of Val's work
here.
Here are a few books of Val's mom that I love. I have every book that she has written, I believe, but these are a few of my favorites:
1.
Let Me Be A Woman
-
is one of the first books that I gave to my oldest daughter. This book was given to Valerie by her mother as a wedding present.
2.
A Chance To Die
-
A Chance to Die
is a vibrant portrayal of Amy Carmichael, an Irish missionary and writer who spent fifty-three years in south India without furlough. There she became known as "Amma," or "mother," as she founded the Dohnavur Fellowship, a refuge for underprivileged children.
Amy's life of obedience and courage stands as a model for all who claim the name of Christ. She was a woman with desires and dreams, faults and fears, who gave her life unconditionally to serve her Master.
Bringing Amma to life through inspiring photos and compelling biographical narrative, Elisabeth Elliot urges readers to examine the depths of their own commitment to Christ.
3.
Discipline The Glad Surrender
-
In

our age of instant gratification and if-it-feels-good-do-it attitudes, self-discipline is hardly a popular notion. Former missionary and beloved author Elisabeth Elliot offers her understanding of discipline and its value for modern people.
Now repackaged for the next generation of Christians,
Discipline: The Glad Surrender
shows readers how to
-discipline the mind, body, possessions, time, and feelings
-overcome anxiety
-change poor habits and attitudes
-trust God in times of trial and hardship
-let Christ have control in all areas of life
4. The Shaping of A Christian Family -
Elisabeth Elliot, whose courage and faith have helped so many to follow Christ, is one of the most loved and respected Christian communicators of our time. In this book, she offers useful insights on the shaping of a Christian home and family.
Christian parents have a responsibility to raise their children using scriptural principles. Using examples from her own childhood, the author shows how to do that in terms of trust, discipline, courtesy, and teaching by example. Parents seeking guidance for raising godly children will appreciate Elliot's emphasis on:
* daily Bible reading and prayer
* clear instructions on parental expectations
* seeking instruction in Scripture and applying these to questions asked and answers given
* benefiting from the model of a Godly and happy home
5. Passion and Purity -
his book is about bringing one's love life under the authority of Christ. It is warmly personal, supporting the author's theme from memories, journals and old love letters. She is the wife of the martyred Jim Elliot.
6. Quest For Love -
Elisabeth Elliot challenges you to embrace a radical view of singleness and dating. Brimming with true stories, this book is an excellent, guide for those on the "quest for love.
7. Keep A Quiet Heart -
When life gets too busy, too impersonal, and too much to handle, it's time to turn to God for some peace and quiet. Keep a Quiet Heart is a unique collection of some of Elisabeth's best work from her newsletter. More than 100 short passages offer a bit of relief from everyday life as they point the reader toward the everlasting love and peace of God.
You can purchase Valerie's book by going here or clicking on the image above or any link that has the name of her book in the post.
Remember, you are loved with an everlasting love and underneath are the everlasting arms!
The post is also linked up and shared on Friday Favorites Link-Up. You can visit by clicking on the button below: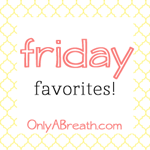 xo, Angela
blog subscription
|
twitter
|
facebook